Dr. Edward P. Yaglou (88), of Barre (previously from Princeton) beloved friend of so many, and Wachusett Greenways leader, died on Sunday, December 8, with his family at his side. We are saddened by the loss of this dedicated servant of his family and the greater community.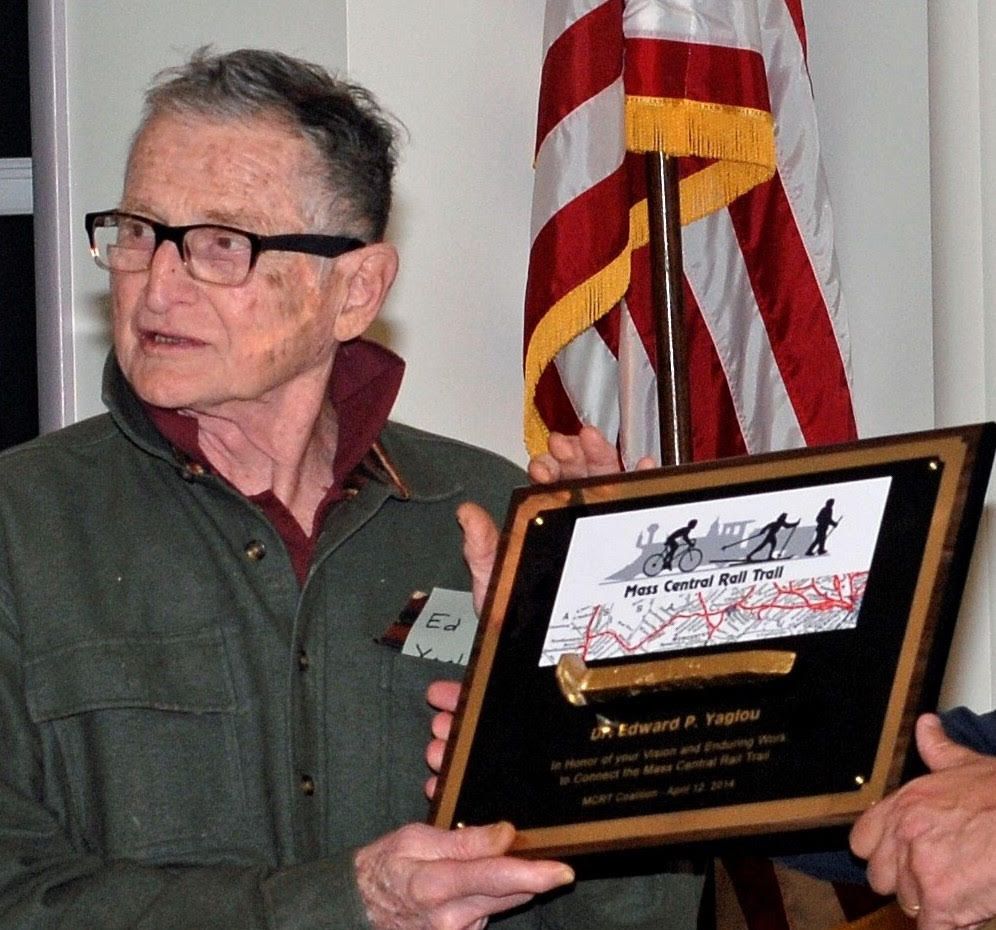 Ed was born in Boston and grew up in Belmont. He attended Harvard University where he received his undergraduate, graduate and doctoral degrees. Ed served in The United States Navy as a commissioned officer for four years and continued as a Reservist for an additional 16 years. He married Grace Marchant 63 years ago and together they raised a family: Susan Waddell from Northborough, Peter from Gabriel's, NY, Bill from Fairfax, VA and Geoffrey from Princeton. Ed and Grace have eight grandchildren and five great-grandchildren.
Dr. Yaglou spent his career in public education serving his community as a Math and Science Teacher, Vice Principal, Principal and most recently Superintendent of Schools for the Wachusett Regional School District from 1969 to 1986. Upon his retirement he was gifted a mountain bike, which he rode to explore the trails in Central Massachusetts and participated in many cycling trips throughout the east visiting historic landmarks. He spent countless hours volunteering with Wachusett Greenways clearing trails and building bridges across Worcester County to preserve the railroad beds and to create a beautiful and safe outdoor path for bicyclists, hikers, and joggers. He often led bike rides or hikes for others and with his family and took pleasure in seeing others enjoy the trails.
Ed's historical preservation interests motivated him to be an active member of the Barre, Princeton and Washington, NH Historical Societies. He served on the board of the Barre Historical Society and participated in many events to educate the community and share the history of their little town.
Another of Ed's hobbies throughout his retirement was his involvement in the Barre Players, a theatre group in Barre. Ed appeared in one play and later focused his efforts behind the scenes building scenery, making repairs to the theatre building or working the ticket booth on show nights.
Ed was an active member of St. Joseph Catholic Church in Barre. He also served on the Board of Directors for 4-H Camp Marshall in Spencer and was often found manning a gate at a horse show or building cubbies for campers.
When he wasn't volunteering within the community, he was helping one of his children with a home improvement project anywhere he was needed. He will be remembered for his quick wit, his recitation of "ditties", his incredible memory, his ability to listen, and his love for his family.
Relatives and friends are invited to visit with Ed's family from 4:00 to 8:00 pm on Thursday, December 12, at the Miles Funeral Home, 1158 Main Street, Holden. A Mass of Christian Burial will be held at 10:00 am on Friday, December 13, at St. Francis Parish, in the St. Thomas-a-Becket Church 398 Vernon Ave, South Barre. A private burial will be at Evergreen Cemetery in Brighton. In lieu of flowers, contributions may be made to Wachusett Greenways, Dr. Edward P. Yaglou MCRT Stewardship Fund, P. O. Box 121, Holden, MA 01520 (www.wachusettgreenways.org) or to St. Thomas-a-Becket Church, 398 Vernon Ave, South Barre.